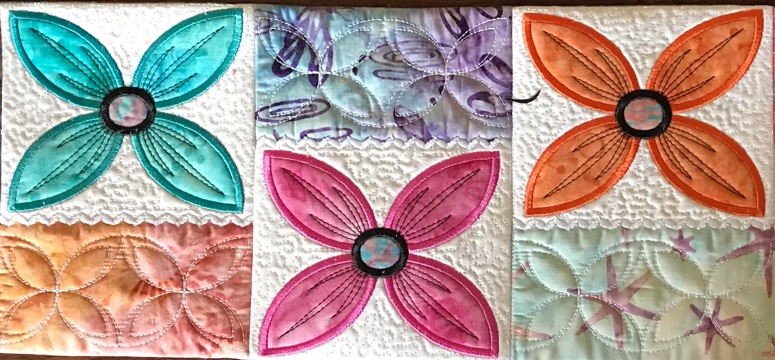 Do you love machine embroidery appliqué as much as I do? Do you hate to have to cut around your shapes in the hoop?? You can use Embrilliance Essentials to create cut files for your Silhouette Cameo or Brother Scan 'n Cut! It's easy and so quick!
Create the Cut File
Open your Embrilliance Essentials software and open your embroidery design.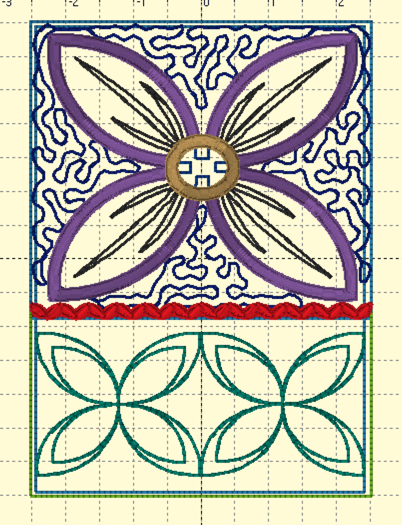 In the Objects Panel on the right side of the screen, locate the appliqué placement line. If you are not sure which color it is, you can use the Sew Simulator to "sew thru" the design until you can see the correct color.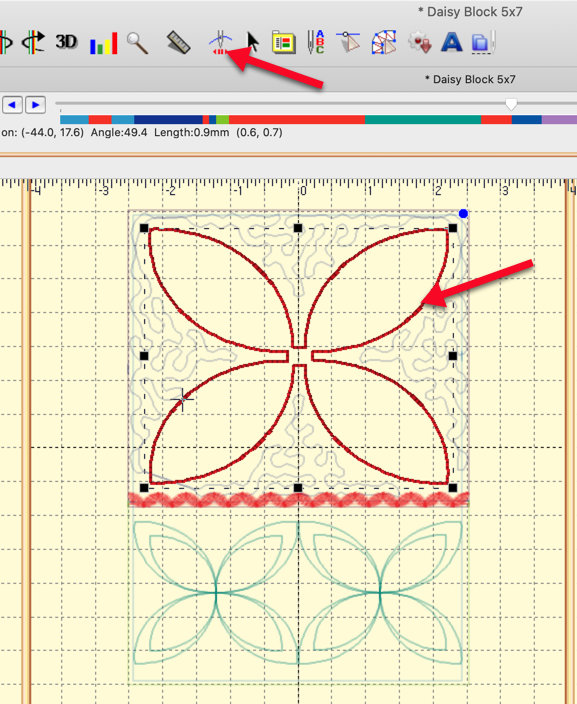 Click on the color in the Objects Panel.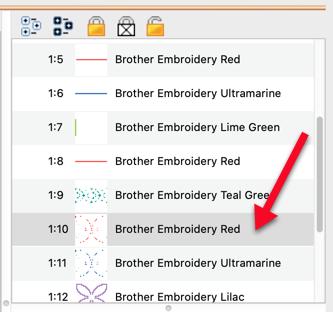 The color chip for this object will be shown in the Properties window. Click on it.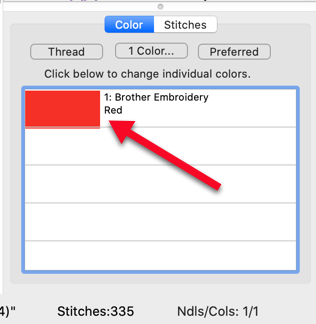 In the Thread Window, you will see all the colors that are in the design. If you click on the button in front of Palettes, you will only see the colors in this design. If you leave it set to Threads, it will show you all the colors in the selected thread family. I like working with Palettes.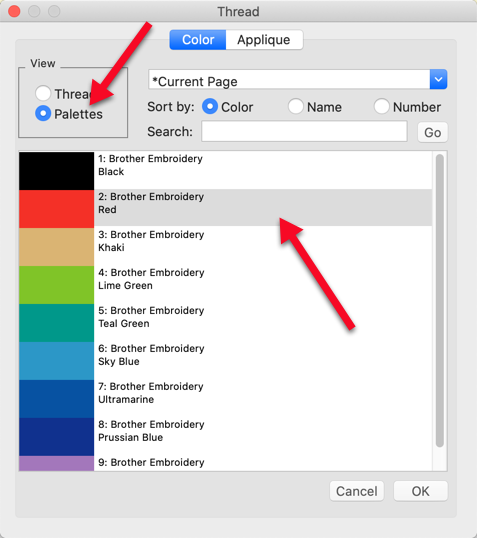 Click the Appliqué tab. Click on the dropdown next to Style and select Appliqué Position. If there are additional appliqué elements, click OK and repeat this step for each of them. When you get to the last appliqué element in the design, set the inflation value. I usually use 1-2mm of inflation. Click Save (for one item) and Save All to save cut files for all the elements at once.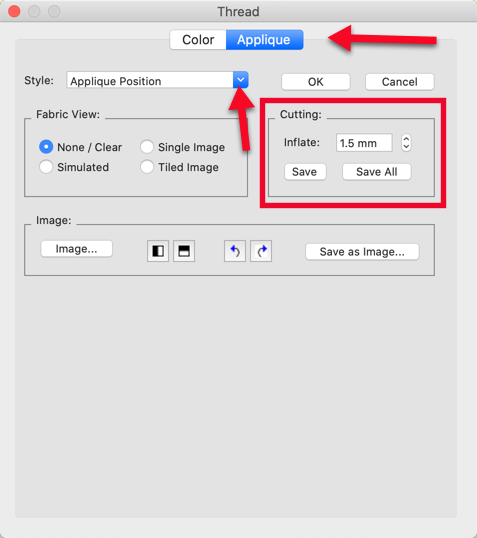 You will be prompted to name the cut file. I usually just select the same name as the embroidery design. At the bottom of the screen, you can select the format for the cut file. You can save as an SVG, FCM, Studio, PLT or SCUT4 file. If you have Silhouette Studio basic, you will want the Studio file. If you have Designer Edition or above, you can select the SVG file. Select FCM or SVG for the Scan 'n Cut. Click Save. Click OK to exit the thread window.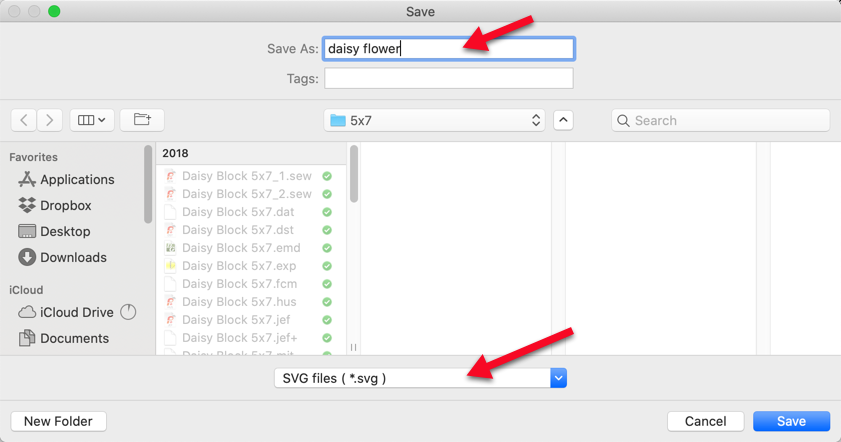 That's it!! The cut files are now ready to use. Save them to a USB stick or send them to your cutter via Bluetooth, if available. I always use a USB stick just because I have to load the mat anyway!
Getting Ready to Cut
When you are preparing your fabric for cutting, you will want to stabilize the fabric. I use a product called Terial Magic to do this. It is like "starch on steroids." It makes your fabric stiff like paper!! You can usually find it in your local sewing or quilt store. If you cannot find it locally, it's also available on Amazon.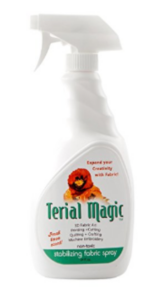 I also use Heat 'n Bond Lite with my appliqué fabrics. There are other double sided fusible stabilizers you can use, but make sure they are designed to be used for sewing. Some fusible products are not designed for sewing and will gum your needle and shred your thread.
Cut Your Fabric
I use the Fabric, Thin (Cotton Print) setting for cutting on my Cameo. My Scan 'n Cut SDX automatically adjusts the blade depth. No matter which cutter you are using, check your settings and do a test cut to make sure you are getting a clean cut before cutting your design element. Cut your design elements.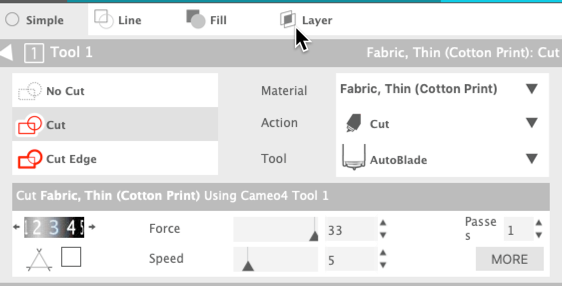 At the Sewing Machine
Your fabric is cut and you are ready to sew. Load the embroidery design into your machine and begin to sew the design. When you get to an appliqué part of the design, stitch the placement line.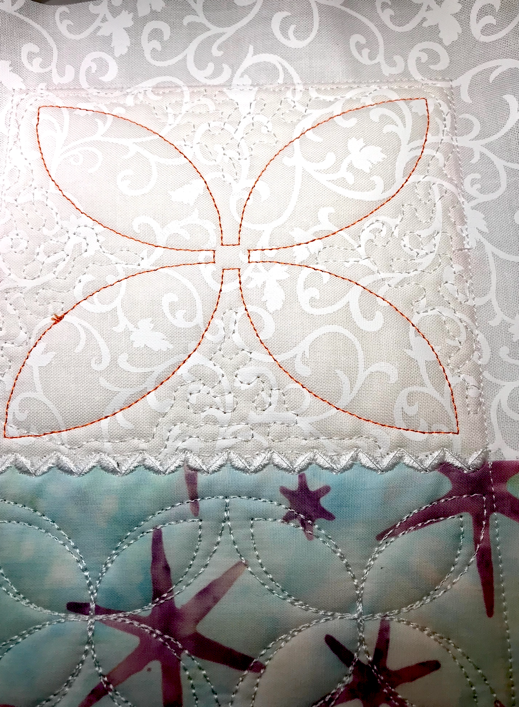 Place the pre-cut piece of fabric over the placement line. If you want, remove the hoop from the machine — do NOT unhoop– and carefully press the fabric in place. Return your hoop to your machine and stitch the next color — the tack down stitches.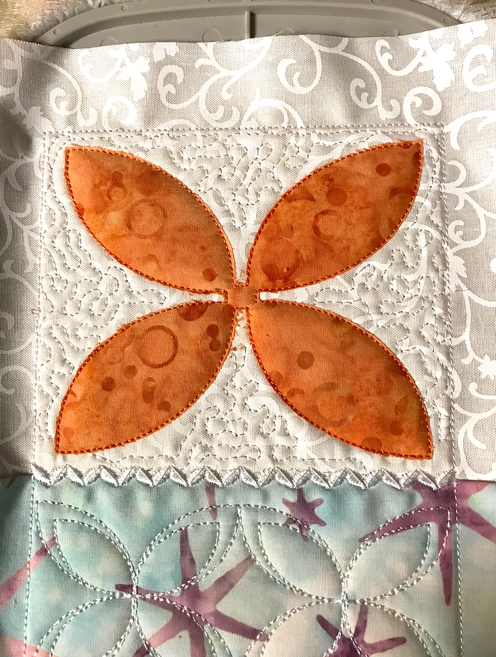 Continue sewing your design, adding appliqué elements as they occur in the design. When the design is finished, remove it from the machine and from the hoop. If you did not press your appliqué pieces when you placed them, you can press them now.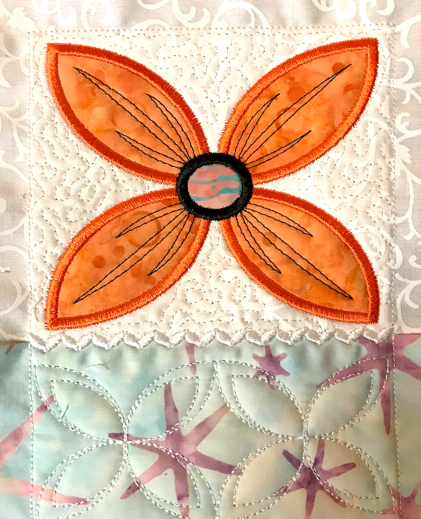 The first time I stitched this project, I just used fabric for my appliqué pieces. The second time I stitched it, I used fabric for some of the petals and heat transfer vinyl (HTV) for others. I also added rhinestones to the design. If you'd like to see how I did it, you can check it out here.

So that's it! Embrilliance Essentials makes creating cut files for appliqué projects quick and easy!
If you enjoyed these tips, please join my Facebook groups … Libby's Silhouette Group — Tips, Tricks, Tutorials and Projects and Libby's Craft and Sewing Group. You can also find me on FB at Libby's Loft.com. Please join and feel free to ask questions and share your creations! I look forward to seeing you there!!
Until next time,
Happy crafting!!
Disclaimer: Posts on this site may contain affiliate links. Clicking on one of these links or making purchases at linked sites does not mean you pay more for your purchases. It means I may receive a small commission on your purchase. This commission helps defray the costs of this site and enables me to continue to provide you with new and exciting content.