Leonardo Design Studio is a free software from Siser. It is designed to work with Siser's new Romeo and/or Juliet cutting machines. I will be working in Leonardo Design Studio v. 1.1.5 which is the most current version as of this writing. Leonardo is continuing to evolve and will just get better and better.
Home Page
Let's get started. Open Leonardo Design Studio and you will see the Home Page. The information on this page will change so it is always a good idea to check it out to see what is featured here.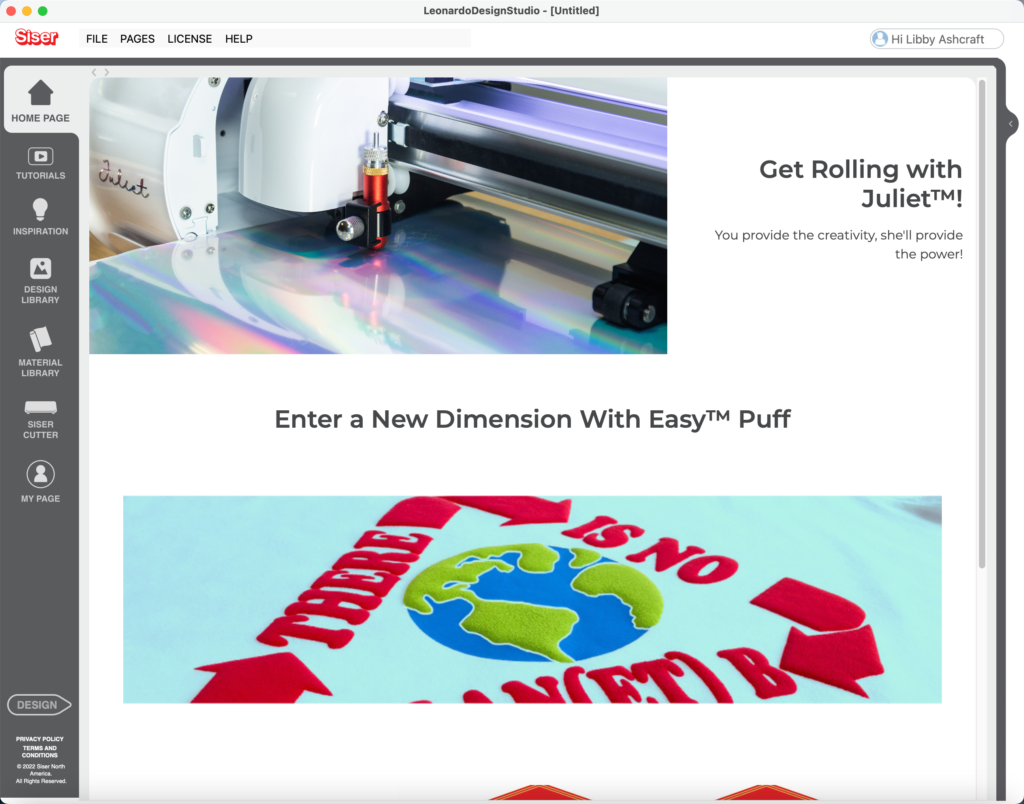 Tutorials
Down the left side you see a group of tabs. Each tab takes you to a different page. Let's look at each one individually. The first tab takes you to a page filled with tutorials on using your Leonardo software. It also contains tutorials on using the Romeo and Juliet cutting machines. You can see the featured tutorials or search for a specific tutorial. The number of tutorials here will continue to grow as Leonardo grows. Also check here for tips and tricks for using Romeo and Juliet.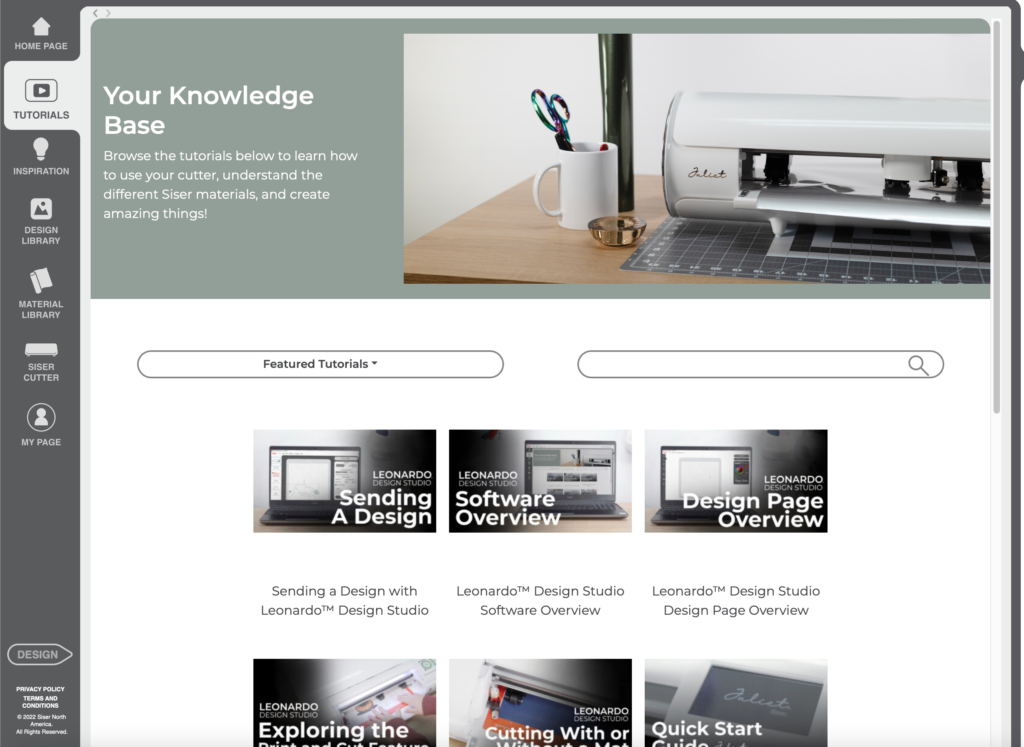 Inspiration Page
Next is the Inspiration page. This page contains all sorts of project tutorials to inspire you …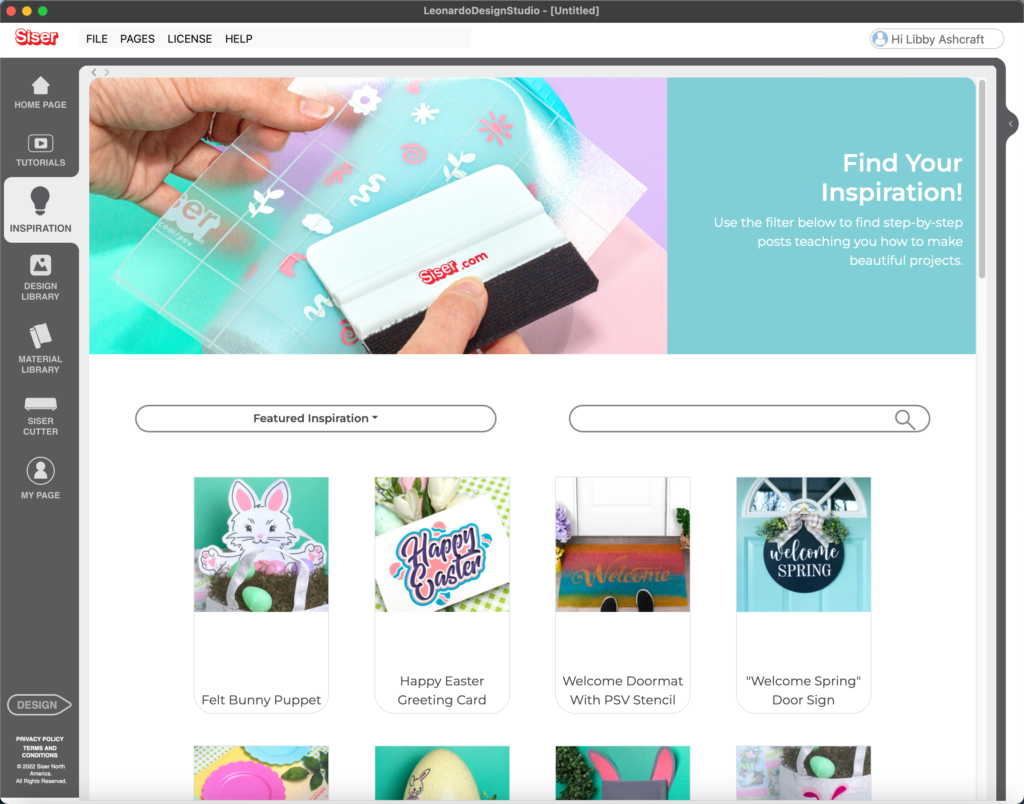 When you select a project, you will see an enlarged photo of the project. You get a list of supplies needed to complete the project. You also get instructions for completing the project.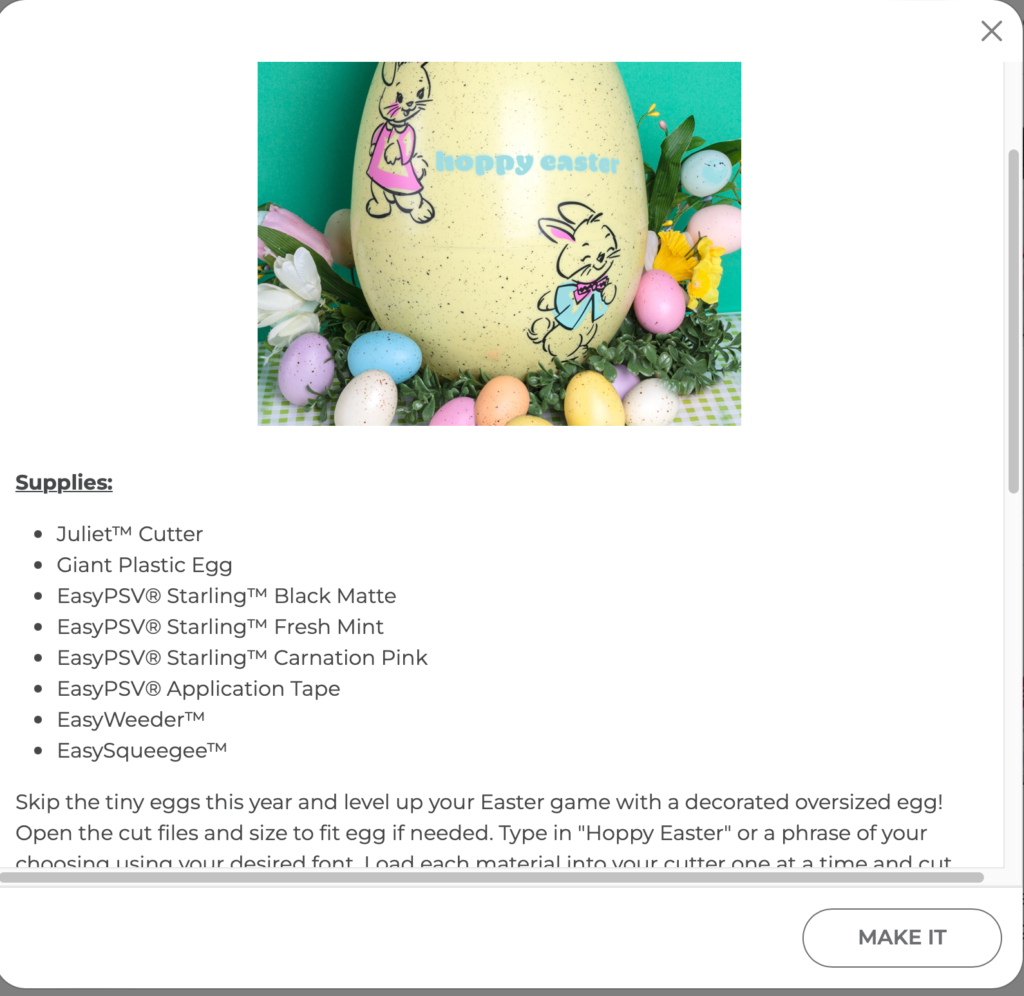 And best of all, when you click the Make It button, the design will be placed in your workspace, ready for you to customize the design and make this project!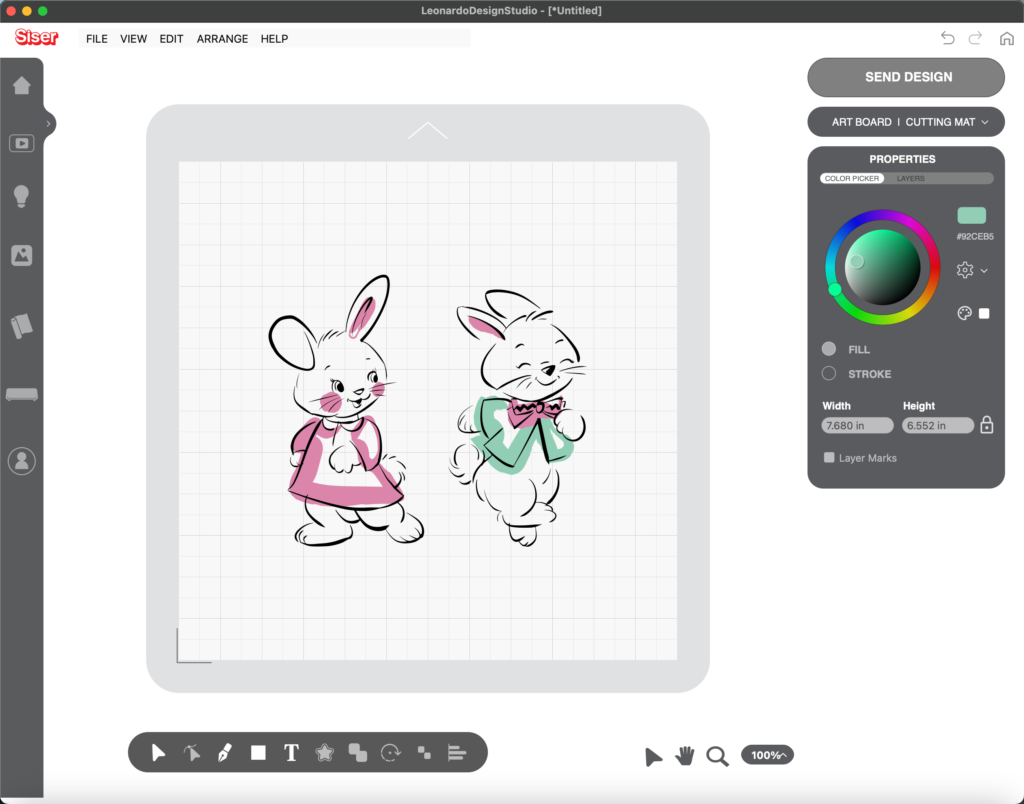 Design Library
The Design Library contains designs that are ready for you to use. The designs are shown as an entire group or by category.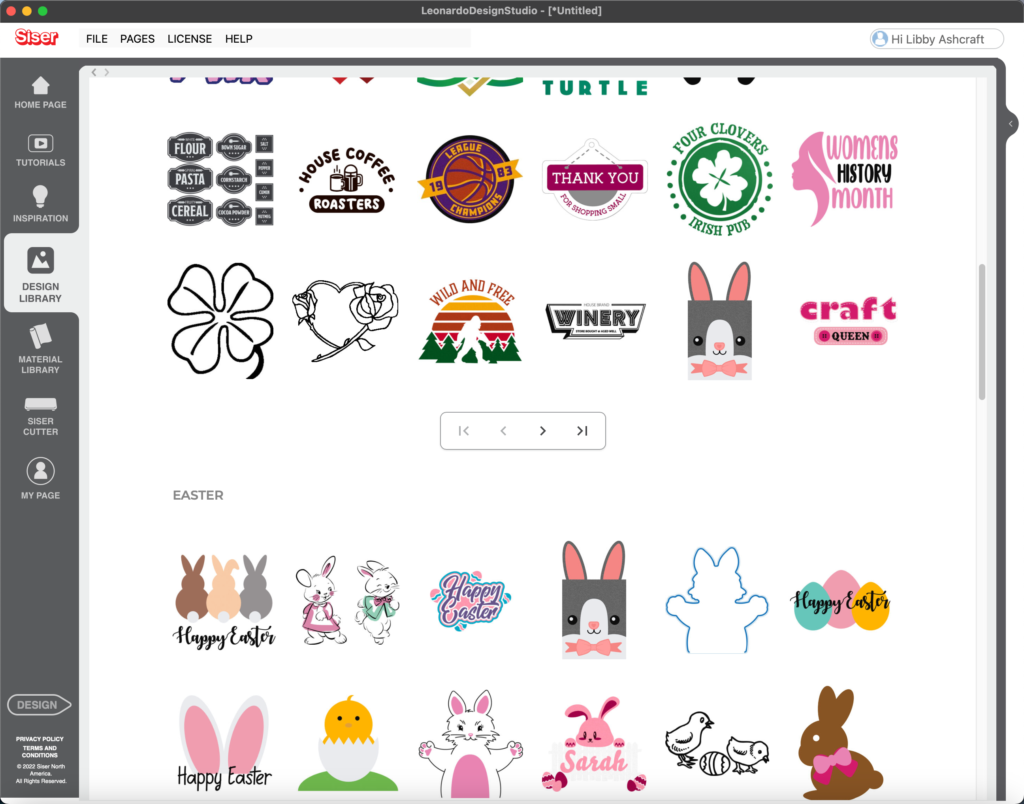 If you know what kind of design you are looking for, you can use the search feature to narrow down the results. Simply type the keyword in the search bar and you will get designs that match your search criteria. Here is just part of the list that were found when I searched for "flower".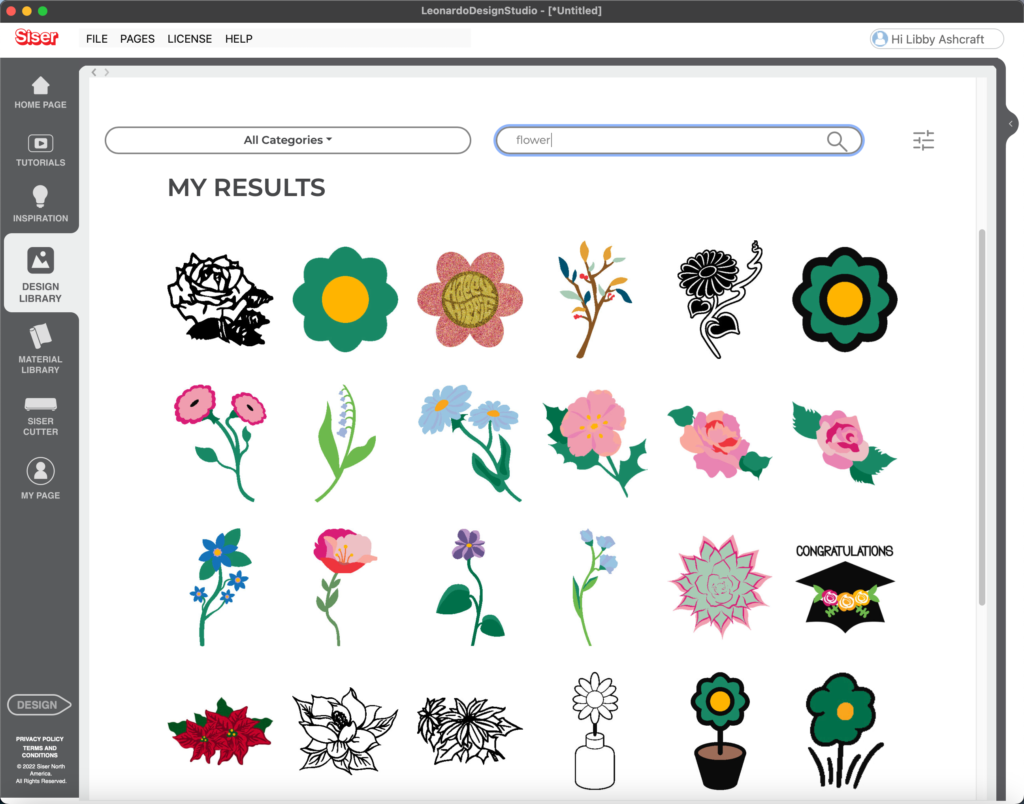 When you click on a file photo, you will get an enlarged photo of the design. You can see the design name and its ID number.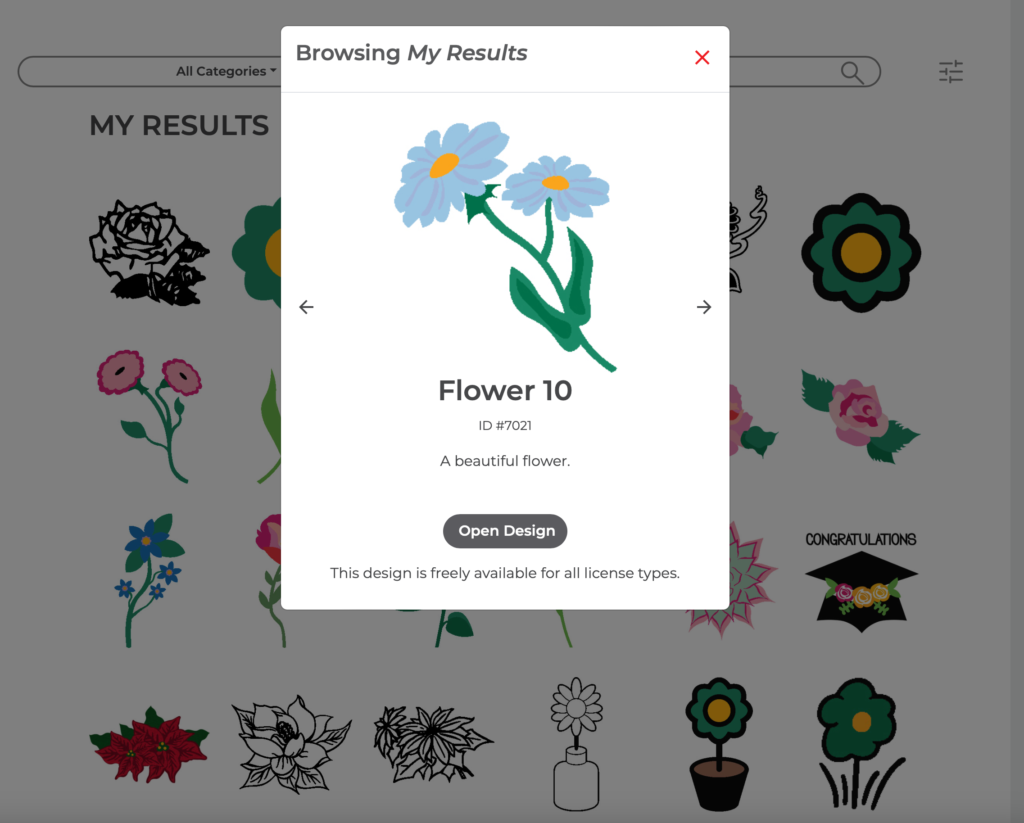 Click on Open Design to open the file in your workspace, ready for you to use. In this case, the design was small so I enlarged the design so you could see it better. The designs you find in the Design Library are vector files and they resize without pixelating.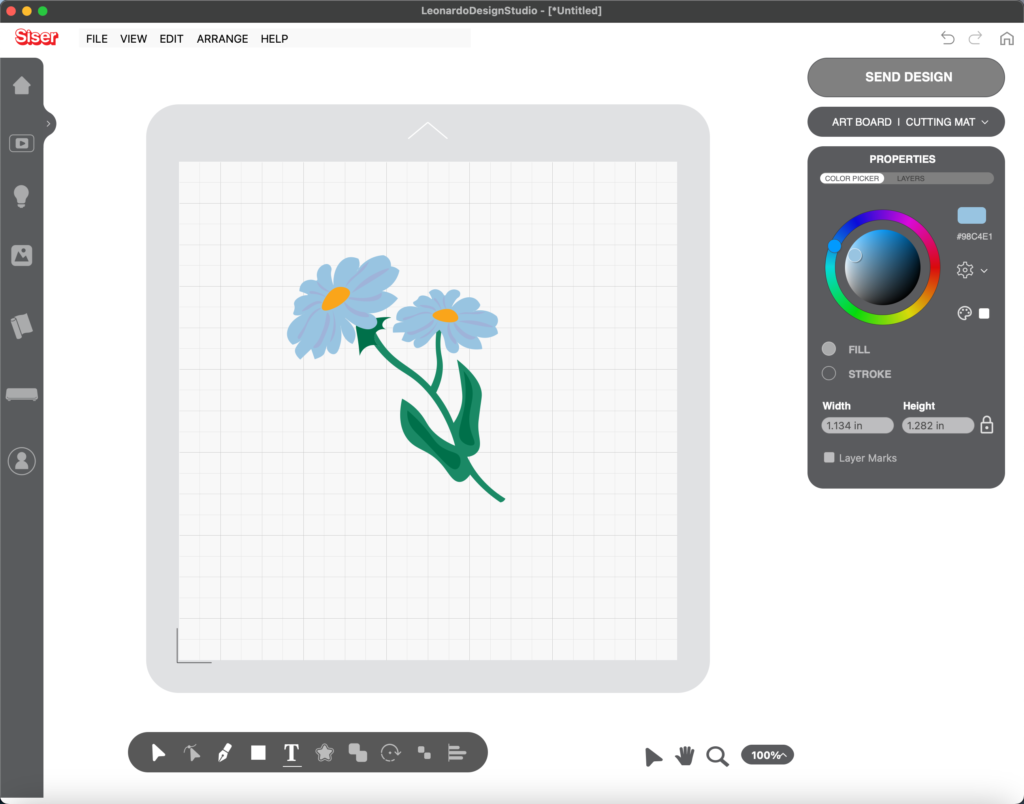 Material Library
The Material Library is the next tab. It includes information about all the Siser products. When you click on this tab, you see featured products. in this case, the featured products are some of the newest colors of Siser Aurora and Siser Brick 600.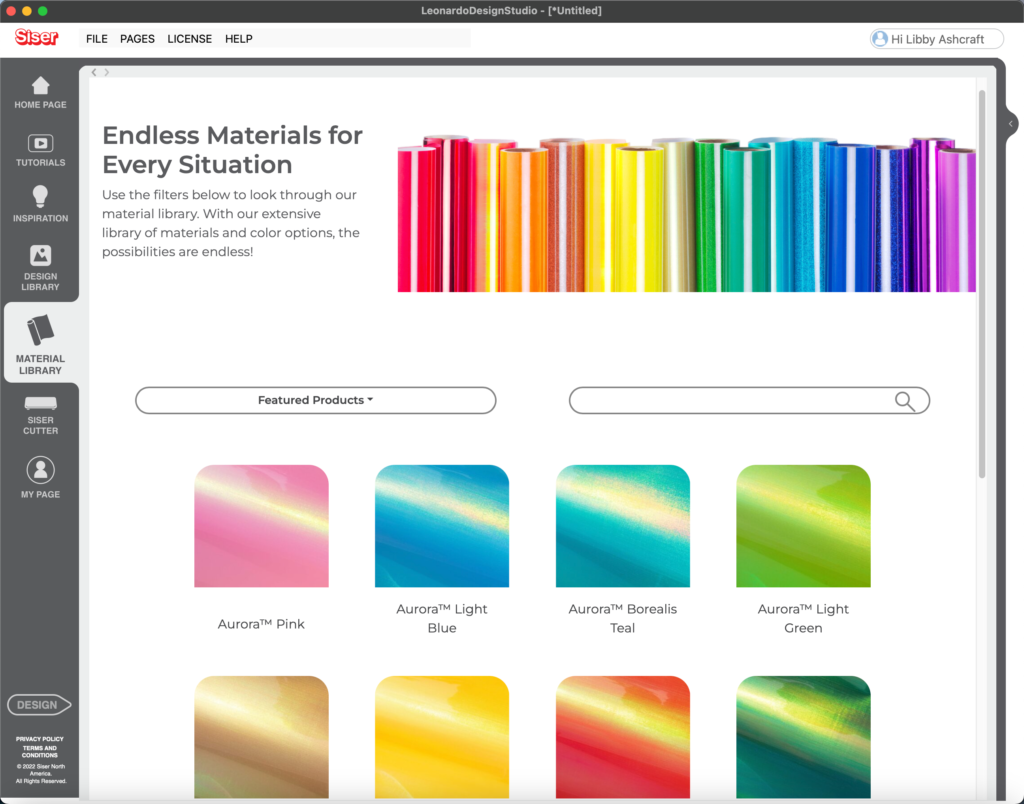 Clicking on one of these will take you to specific information about this product. You get a description of the product. You will learn how to work with the material – in this case, the product (Aurora) is an iron-on and is layerable. The best blanks are also shown.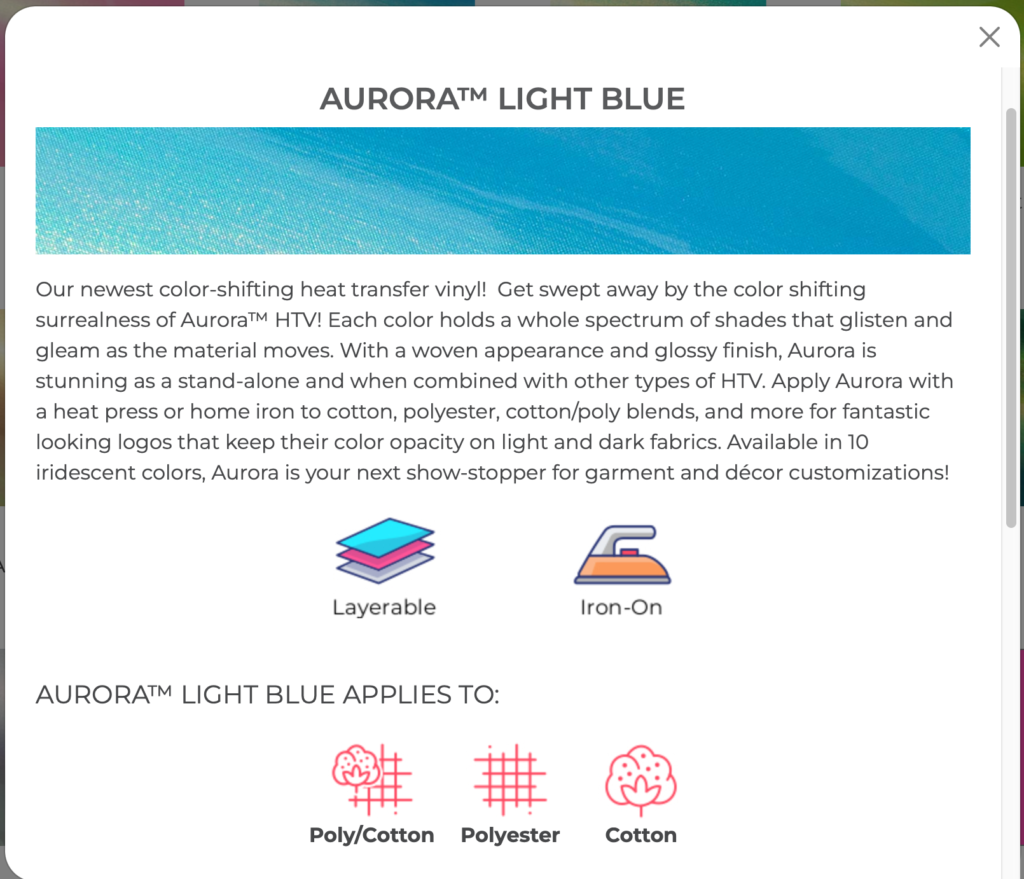 Scroll down in this window and you will receive detailed instructions for applying the product to the blank. Because this product is a heat transfer product, you get instructions for using both a heat press and a home iron.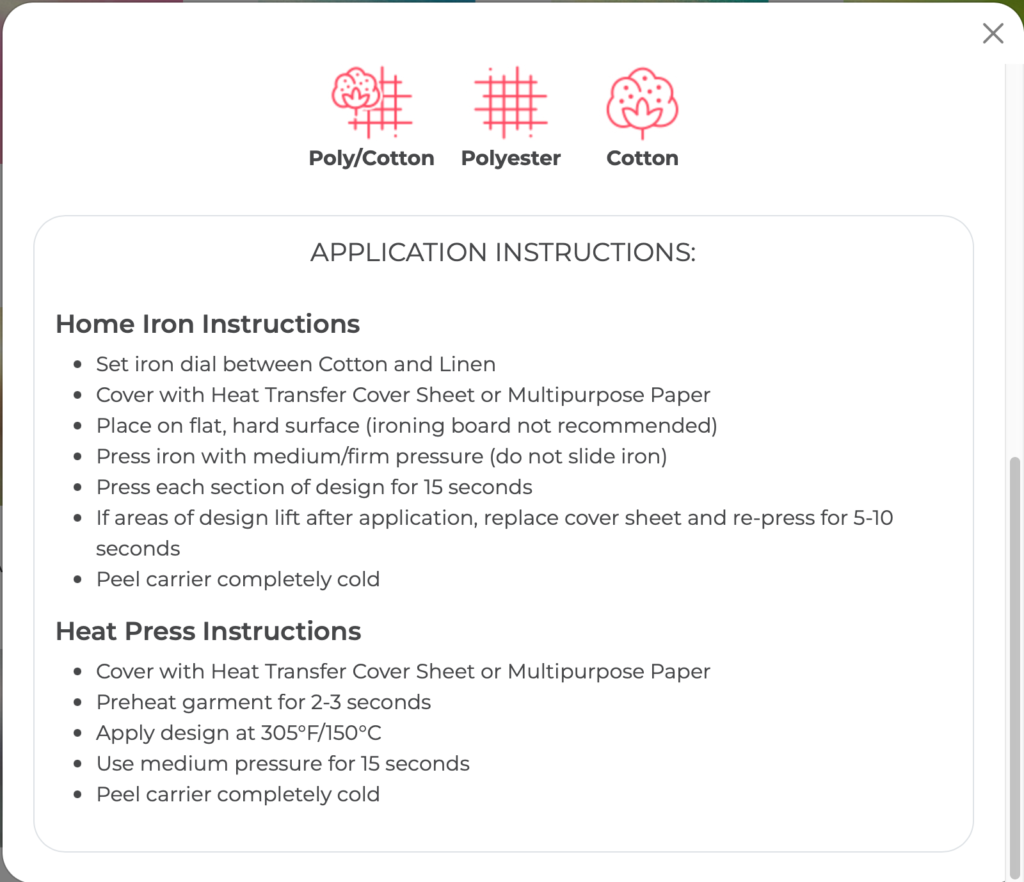 You can also search the Material Library for instructions for a specific product. in this case I searched for EasyPSV Glitter and I got the list of things it can be applied to as well as instructions for successful use of this product.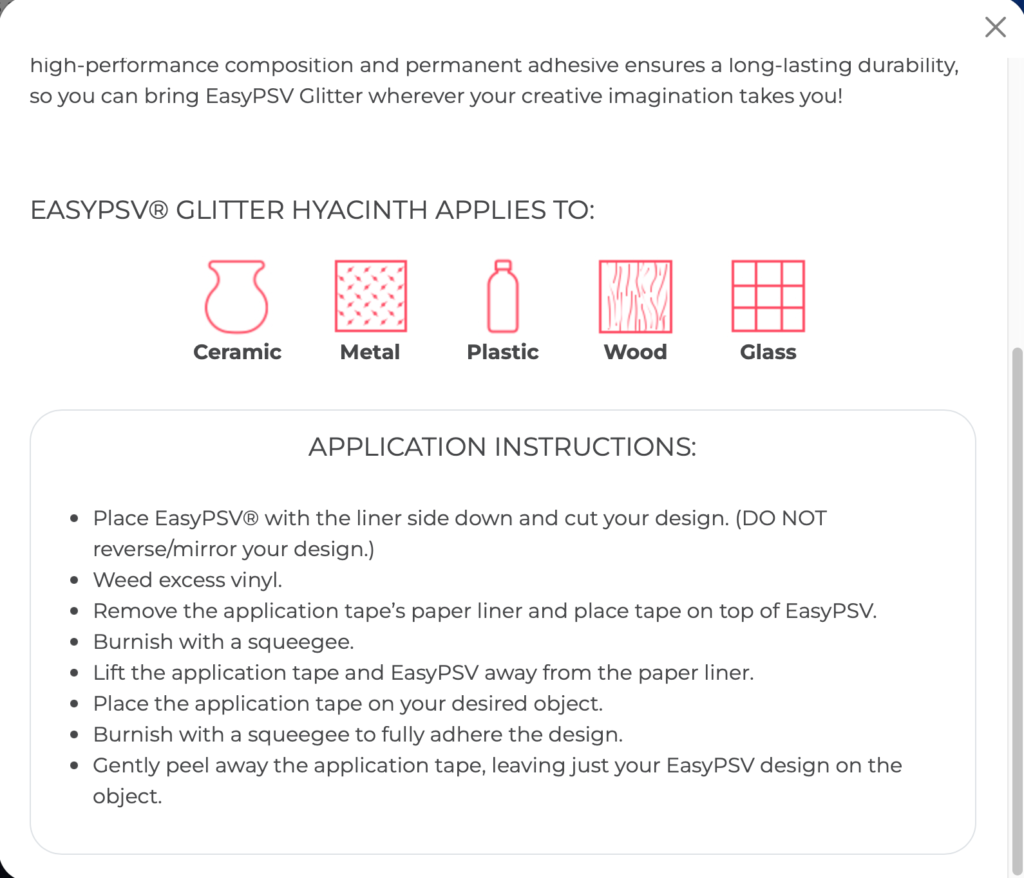 Siser Cutter
This is where you will manage your Siser cutters. You can register a new machine, view your serial numbers and delete a machine if you no longer own it. It also shows your purchase date and where you purchased the machine.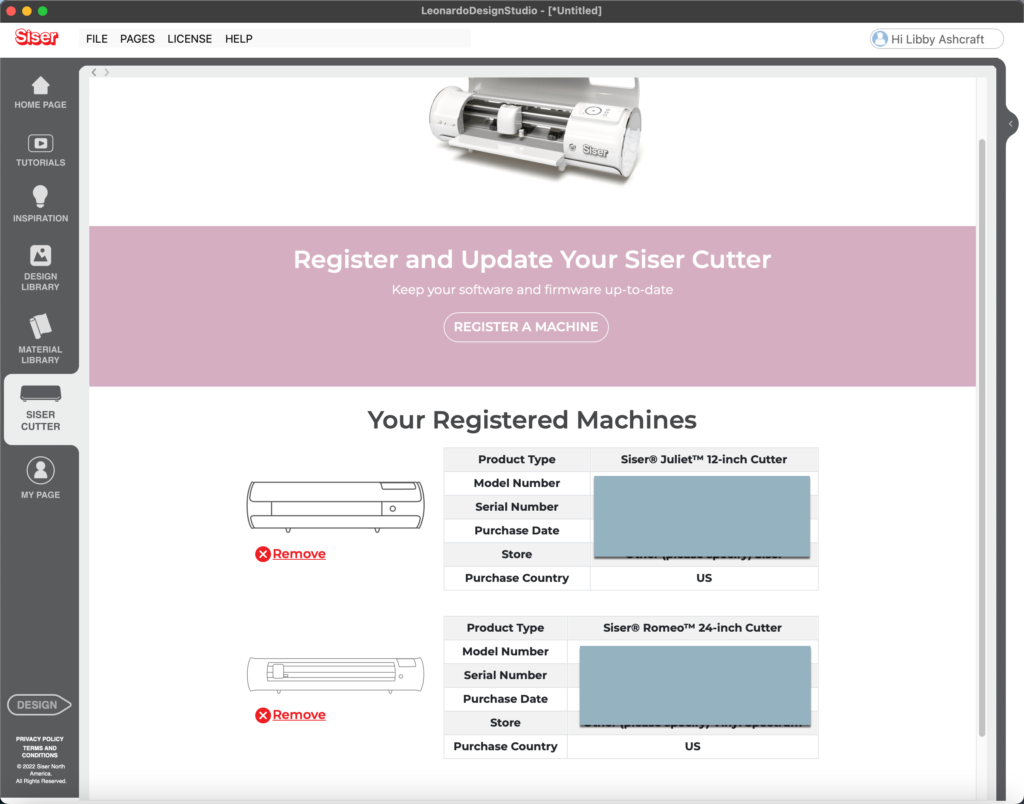 My page
My Page allows you to see design you have recently viewed. It also allows you to manage your account with Siser. There is also a note that tells you how to view projects you have created in Leonardo Design Studio.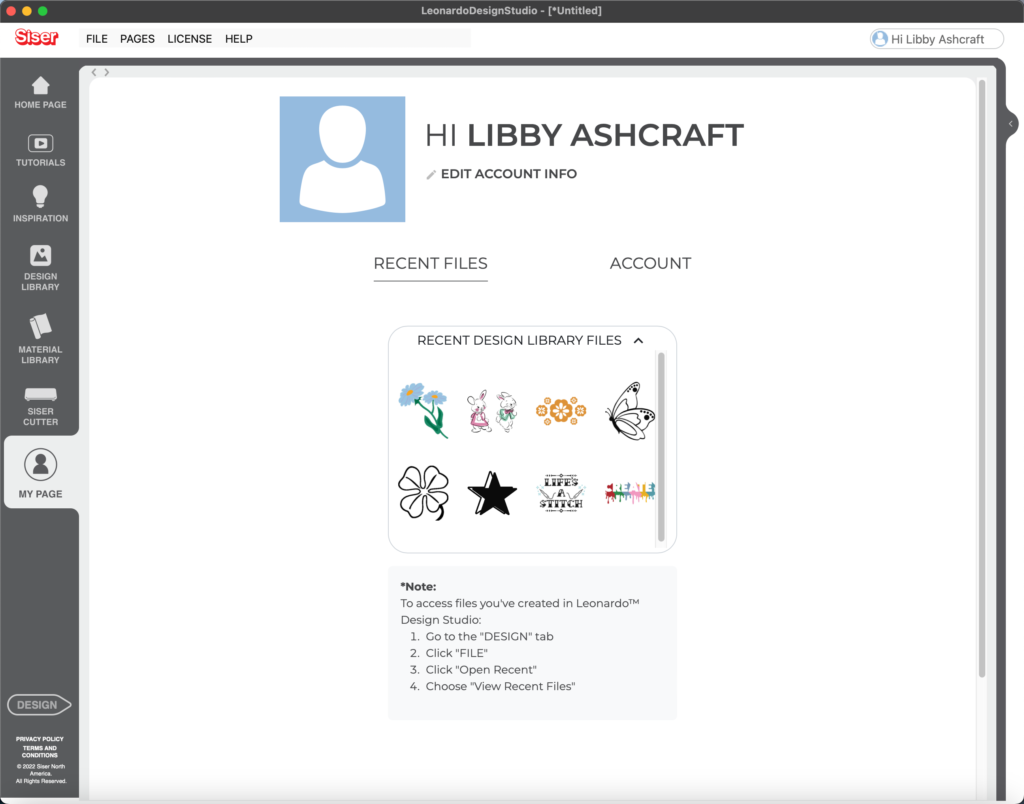 Design
At the lower left side of the screen is the Design page. Clicking on this will open the design workspace. Here you can create your own designs, manipulate designs you import and send your cut jobs to Romeo and Juliet. We will cover this page in more detail in another post, but let's identify the major parts of the screen.
At the top of the page is a menu bar. You can select a variety of options here for viewing, editing and arranging design elements. On the right side is the Art board/Cutting Mat icon that allows you to customize your workspace. Below that is the Properties window where you can control color, size and layers. At the bottom of the screen is your quick access toolbar that will allow point editing, drawing and sketching, drawing shapes, text, contours, welding and compound paths, rotation, arranging design (front, back) and group/ungroup. Finally there is an alignment icon. Lastly there is a toolbar that controls your zoom and pan options.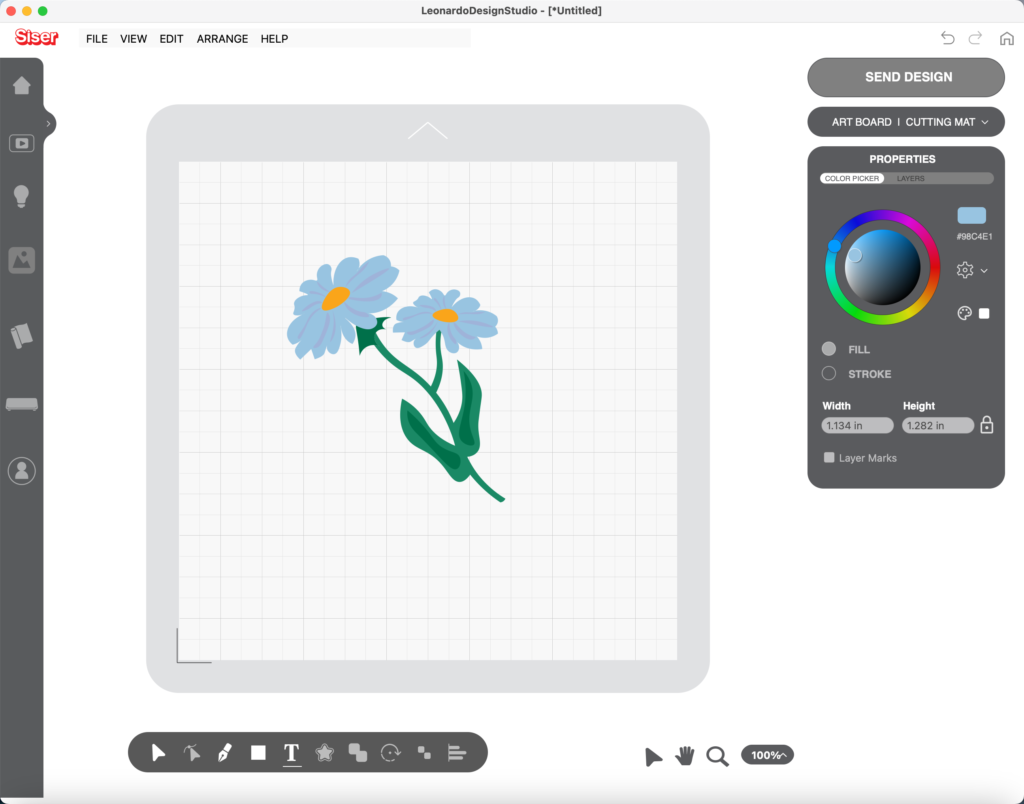 Click on the Send Design icon and you will be taken to a screen where you can control the cut job. On the left, you see each layer (or color). You can set whether you are using a mat and the size of the mat. You can set the tool that will be used. Mirroring and an auto weed box is also controlled here. Each of the options gives you control over your design and how it will cut. That's one of the things that makes Romeo and Juliet such powerful tools! Again don't worry, we will talk more about them in the near future.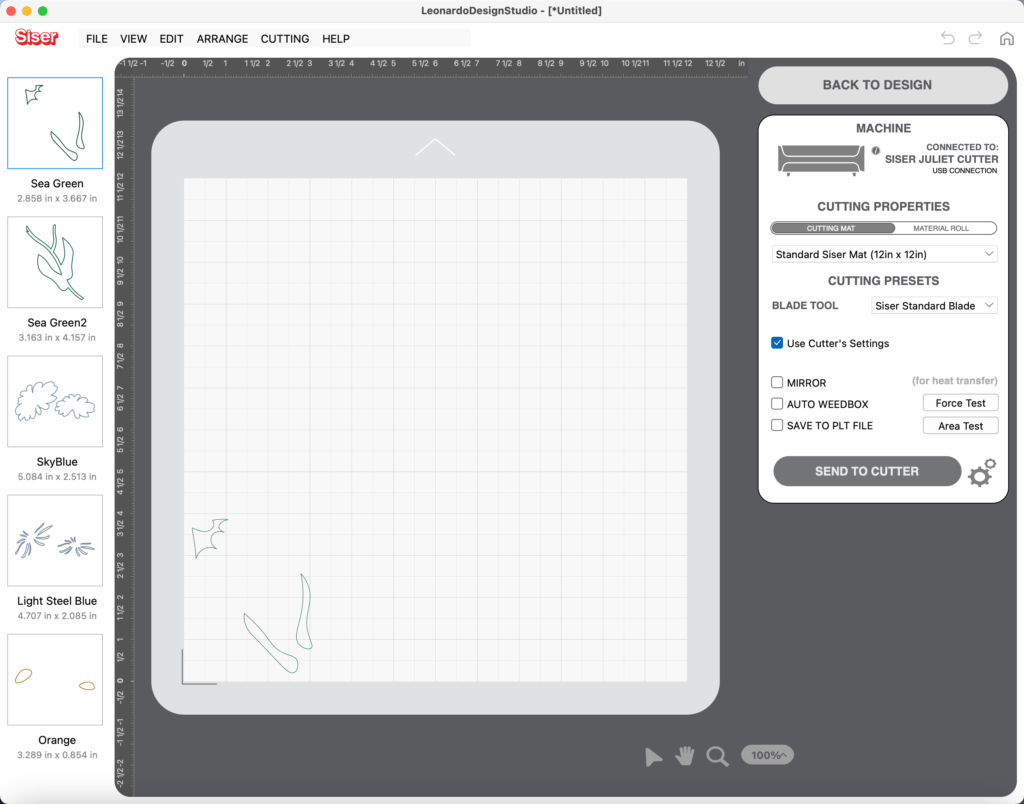 Whew!! That is a lot of stuff to digest!! There is so much great information in Leonardo Design Studio. Don't worry, we will cover the Design panel in more detail in upcoming posts! This post was just designed to give you an overview and encourage you to get started exploring all the tabs in Leonardo. Keep watching the Running With Sisers – Juliet and Romeo group so you don't miss anything!
If you enjoyed these tips, please join my Facebook groups … Libby's Silhouette Group — Tips, Tricks, Tutorials and Projects, Libby's Craft and Sewing Group and Running With Sisers – Juliet and Romeo. You can also find me on FB at Libby's Loft.com. Please join and feel free to ask questions and share your creations! I look forward to seeing you there!!
Until Next Time,
Happy Crafting!!
Disclaimer: Posts on this site may contain affiliate links. Clicking on one of these links or making purchases at linked sites does not mean you pay more for your purchases. It means I may receive a small commission on your purchase. This commission helps defray the costs of this site and enables me to continue to provide you with new and exciting content.